About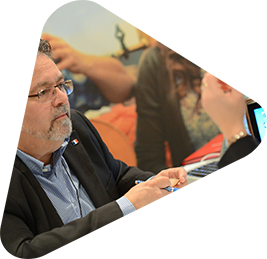 Bienvenue Québec is an essential event for the Québec group tourism industry. Created in 1989, this trade show, based on the Québec tourism supply, has revolutionized the way we bargain group tourism products and services by introducing new business practices, mainly for motorcoach transportation businesses.
This commercial market unique to Québec helps North American and International travel agencies, receptive agencies, and tour operators familiarize themselves with the entire tourism supply (both at the individual and group level) with suppliers from Québec, Eastern Canada and the North East of the United States.
With over 500 participants, Bienvenue Québec has successfully developed a "speed dating" formula for the tourism industry leading to 8000 business meetings over three days. This formula, consisting of 12-minute predetermined and computerized interviews, enables tourism product and service suppliers to sell themselves and "seduce" travel agencies, receptive agencies, and tour operators to include them as a destination in their travel packages.
For over 34 years, Bienvenue Québec has aimed to:
Provide buyers with the opportunity to meet suppliers of tourism products and services from Québec, Ontario, the Maritimes and the United States, during three days of planned activities;

Increase the training, networking and promotional activities of Québec tourism businesses and thus contribute to the growth and vitality of the Québec tourism industry;

Show the world the must-see attractions of the province of Québec;

In addition to being a keystone of business development for the Québec tourism industry, Bienvenue Québec contribute to reinforcing the Québec destination as a quality, authentic and appealing tourism experience.