Conferences and panels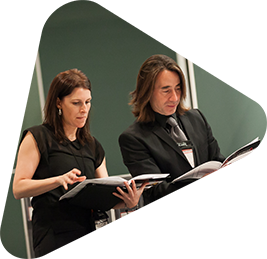 Bienvenue Québec offers its various participants a range of training and networking activities, thus enabling them to become better acquainted with each other, share news and views, and discover the most recent trends.
Conferences
Capturing Group Travel: A Thriving Financial Opportunity (available in English)
Presented by: Lia Zegeye, American Bus Association

ABA represents nearly 1,000 motorcoach and tour companies of all sizes in North America, and more than 2,800 additional organizations in the travel, tourism, and transportation industry.

Come and learn about the size, scope and economic impact of the motorcoach travel industry including employment data, number of passenger trips, fuel efficiency and more.

Presentation available: PDF version
How Business intelligence serves the tourism industry (available in French)
Presented by: QuébecOriginal
Speaker : Marc-Antoine Désy, Strategic analysis advisor, business intelligence department, Ministry of Tourism
The Ministry of Tourism has a plethora of tools available that it uses to help the development of the tourism industry. The Ministry responds to the needs of many stakeholders, of various origins, by providing them with tailored services and solutions that enable the development of the Tourism Industry in Quebec. Come and learn about the major trends in international tourism, and learn about the wealth of knowledge available on international customers that can support the growth of your business.

Presentation available: PDF version
The future of online booking (available in English)
Presented by: Julie Carbo and Alexandra Molac, Booking.com

A reflexion on global and local market trends and our strategic learnings from emerging markets. We will look into history, present, to anticipate who will be the traveller of 2030 and how they will travel.






Stop selling, let your customers buy you (available in French)
Presented by: Vincent Fournier, Optimisateur de perfomance


During this energizing conference, you will discover: The new sales model.

Be attractive: Your personal brand image is your first relational and communication tool.
Be remarkable: Stand out by expressing your color and your uniqueness.
Be attentive: Your listening and your interest are your best assets.
Be memorable: Make sure your customers do not forget you.